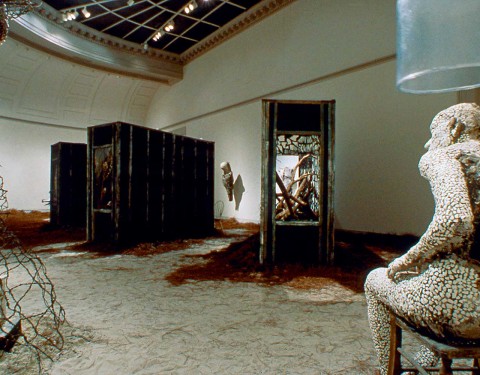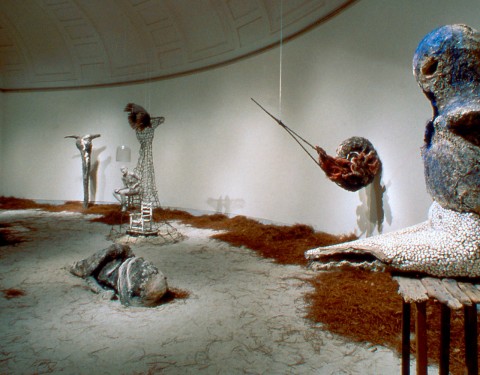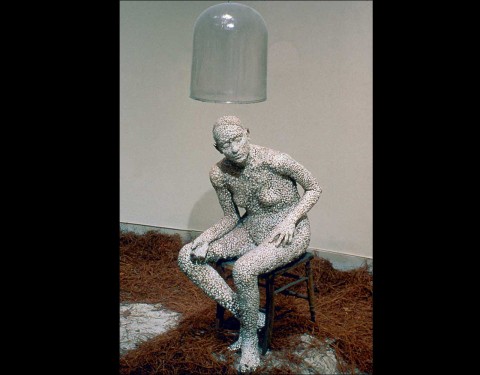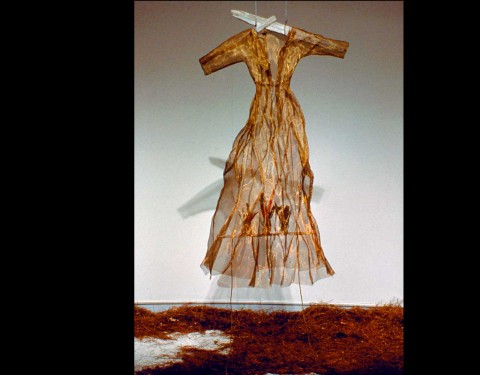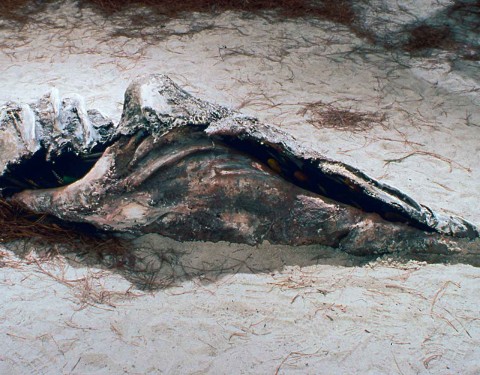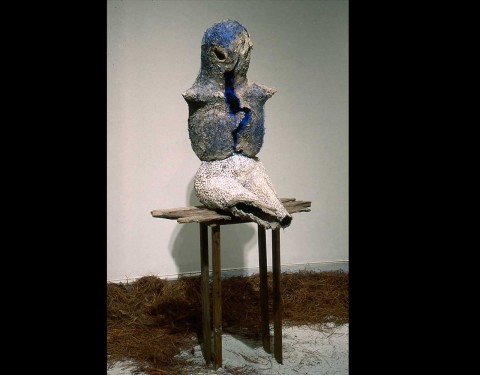 Vessels/Containers – A Sculptural Installation by Genna Watson
October 17 through November 11, 1996
"Vessels/Containers has been nearly three years in the making from conception to installation. Before working on the exhibition, I was making small, three-dimensional sketches of sheltering forms that resembled shells, hearts, and nests. It was from these innocent beginnings that the idea for doing a large-scale installation was born. The title Vessels/Containers refers to the overall image of structures as containers for thoughts, feelings, memories and deeper layers of consciousness. In the installation, the actual vessels and containers are fabricated dresses, human forms (both abstracted and with realistic elements), forms and materials from nature, and a series of small rooms.
The vessels and containers are metaphors for the protective layers that we build around the inner cores of our beings. Sometimes the outer layers are powerful; at other times they are fragile, transient shells. These outer layers can be built like a suit of armor during desperate times only to become a trap when they are no longer needed. At other times our outer shells are nurturing nests or temporary resting places as we undergo changes. The three rooms in the show are symbolic of the inner journeys that we are often aware of only through our dreams. This show honors the shelters we build in order to protect the inner sense of ourselves which at times is like a phoenix, and at other moments, small and vulnerable. "
-Genna Watson
This exhibition was supported through gifts from the William and Virginia Brody Foundation and the John and June Hechinger Advised Fund. Additional support provided by Dee Axelrod, John Durland Benjamin, Dr. Alan D. & Phyllis C. Entin, Anne Fischer, Mollyy & Bob Hsieh. Madeline Keesing. Ruth Kristoff, Mary Virginia Langston, Jim & Marianne Melchert, Lolo Sarnoff and David Yerkes.
Special thanks to Cynthia Bausch, Rennie Blalock, Nancy Brandon, Steve Brown, Margaretha Bull, Cheryl Casteen, Kyeong Chang, John Chappel, Patricia Cooper. John Dickson, Christaine Graham, Dayna Griego, Scott Habes, Vikki Katen, Michael Katz, Victoria Kleeschulte, Ruth Kristoff, Julie Miller, Ledelle Moe, Holly Rosenfeld, Thuy Pham, Yvonne Politis, Bryce Tugwell,  Patrick Thevenard and Doug Turda of Laughing Tortoises Associates, Aaron Turner, Elissa Turner. Luane Wolinsky, and the Corcoran School of Art student volunteers.